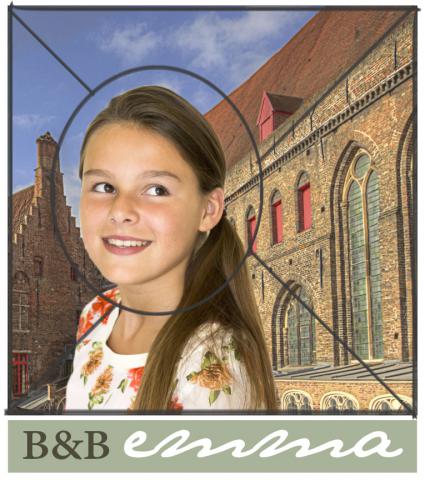 Staying in B&B Emma means staying with my daughter Emma and me. The logo combines two great loves, Emma and Bruges. As Emma grows older, the logo will grow along with her. Each year you will discover a new Emma! As myself she enjoys being in company of friends. Breakfast is served in our kitchen or brought to your room: a variety of local bread, traditional jams, dairy farm and meat products, a fresh egg, freshly squeezed orange juice, coffee and tea.
Couleur locale
It's very quiet over here. Few tourists find their way to our lovely ancient neighbourhood of St.-Giles. A mere 10 minutes walk to the Market Square, we are very well located within the historic centre of Bruges. It's an ideal starting point to discover the city and its surroundings. Cyclists have easy access to one of the many routes through Bruges picturesque countryside!
Luxury and authenticity
Our house (1938) has just been refurbished and newly furnished with respect for the authenticity of the property. We have two luxurious bedrooms (2 persons and 3 persons) with wooden floors, each equipped with a private bathroom, toilet, shower, sink, flatscreen tv and wifi.